It's not surprising that Sri Lanka is turning out to be the ideal destination for offshore call center services. Almost all businesses tend to end up requiring the support of BPO at some point. It's not actually a drawback or failure because it's quite the opposite. When a business understands the importance of Business Process Outsourcing, they get the best out of it sooner than others.
There are many benefits in considering BPO, from company growth, handling global operations, managing customers in various languages, and assisting staff talents. So it's pretty evident why we should emphasize call center outsourcing.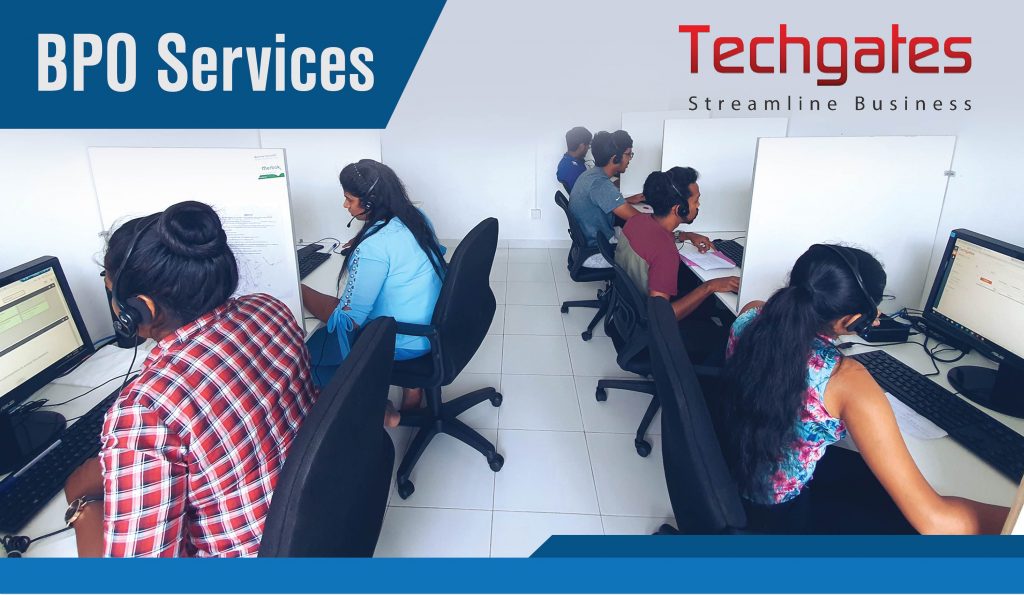 At Techgates, we offer a 24X7 call center and BPO services. You don't have to worry about your budget because we provide budgeted offsite contact center solutions. We offer comprehensive browser-based tools to monitor your business's call center activity in Real-Time regardless of where you're based in. It is also possible to retrieve historical productivity reports from self-care portals.
Learn more about Technology we use
On top of all, we've got a team of well-trained professionals who could handle thousands of calls with state of art technology. Keeping up with technology isn't easy, but specialized professionals have everything sorted and ready.
However, maintaining your own call center can be daunting. Think about setting it up, finding staff, training them, and doing the trial and error. Though it's feasible, you'd have to bear a considerable sum of money to make it work. It's even worse if the plan doesn't go as you intended. But we've got you covered. We provide everything from technology to the workforce.
We take risks and hassles off your shoulder to ours. We're all about providing call center agents, supervisors, and cutting-edge technology. Sounds like something your business needs? If so, learn more about us below.
Here at Techgates we do Automatic call distribution, skill-based call routing, Real-time call monitoring, live agent supervision, Call Center statistics reports, and agent performance monitoring with cutting-edge technology.
Every service is handled by our well-trained professionals fluent in English, so you have no language barrier. They have completed day-to-day training, call quality evaluation, and possess product-oriented knowledge.
Our talented team is always ready to offer inbound call center services to help you throughout your business operations. We strategize to reduce and control your inbound service costs while finding clients to enhance revenue for your business.
Marketing calls are integral parts of a business, and it consumes time, effort, and of course, MONEY! But with a business process outsourcing (BPO) in place, you get to let us handle it for you.
Marketing calls involve contacting customers over telephone and various channels. This is tested and tried marketing technique known as telemarketing. As pioneers in the market, our professionals are well-equipped with knowledge and training related to marketing calls.
Professionals at Techgates connect with your potential customers over a call and market your service and products to them. We become your storefront, and then, once potential customers turn into actual sales, you can take it from there.
Moreover, we learn your product and service from scratch to pitch them to your customers without filling them in with redundant details. Our trained staffs know how to handle your potential customers tactfully without driving them off. By doing so, your revenue gets enhanced.
This could be called a tough job because if the inquiry isn't handled as it should have been — you lose a customer! There's only a thin line between securing and losing a customer, so you got to have the best team of experts to handle inquiries.
All inquiries should be dealt with by providing the right information about your product and services. Our trained team has enough experience and skills to handle customer inquiries professionally and ethically to help clients' customers. Our staff must know client's products and services.
There could be different reasons why customers inquire, but one main reason is indecisiveness. Unlike before, customers nowadays do thorough research by reading product reviews, talking to known contacts, etc. This is why our professionals are fully aware of customer needs and inquiries.
These inquiries come from customers that look for the exact information to decide whether to finalize the purchase or not. So we train our staff to provide the exact information your potential customers want. That said, it's evident that inquiry handling is a crucial part of every business, so companies understand the importance of hiring the right BPO.
It's vital to give more importance to value-added tasks like branding and advertising, so other services like order-taking can be outsourced to a BPO service. The best part is that we will keep order-taking streamlined to smoothen the entire procedure for you. While we're at it, you can prioritize branding and advertising.
If a company wants to increase its revenue, the core services such as advertising and branding should be their concerns. So we were hoping you could give attention to where it's due while we handle the rest. Though purchasing products or services in a matter of clicks is normal now more than ever, there is another aspect to customer behavior.
Some customers prefer direct calling to place an order. Or they want to get more information before making their decision. This is human nature as human interaction always tends to hold a higher place in decision-making power and instinct.
When considering consumer behaviors, companies believe it's wise to outsource order-taking to a BPO. It's an investment, so if you want to reap benefits, you should consider hiring specialized service providers. Our skilled telephone operators have the required skills and experience to handle customer orders. It's going to be a seamless service in the hands of experts.
Channeling and Doctor Appointments
Channeling and doctor appointments service is not something you can risk, and it shouldn't have mishaps because it involves life. This is why you should consider outsourcing such a service to experienced call center service providers.
As they are available 24/7, it gives trust to your customers, and they can make appointments whenever they want. This will keep your internal staff affairs untouched. Outsourcing this service to a dedicated team ensures that they will be working around the clock despite the time zones. This is convenient for the customers when they make a booking.
Online scheduling systems might work for some customers, but many customers would appreciate it if they could talk to a human and get their questions answered. We have experience scheduling appointments for our clients in different industries, so we know we can handle yours too.
Every business needs outbound services to expand and increase sales. Outbound services do all sorts of things to help the business find retainer clients without overdoing the budget.
Our skilled professionals hop on a call with potential and existing customers to turn them into regular or retainer customers. The outcome of these calls is sales, testing new markets, follow-up emails, customer relationships, and much more.
Field sales representatives and telesales representatives are more like a team. Telesales target amazing customer relations and talk to them to promote offers. In other words, they are like the field sales representative's back office.
Their job is to talk to potential customers to promote offers and make appointments so that field representatives can take it from there to close the deal. If a good customer relationship is maintained, these sales might become ongoing.
Our expert team can understand customer needs and provide ideal solutions for customer acquisition. They also focus on increasing clients' market share in the industry. Accepting and understanding human relationships are key factors to creating long-term client and customer relationships. In turn, this will increase revenue by utilizing their resources.
Recoveries and Debt Collection
Recoveries and debt collection are non-value-added but essential services. If you want peace of mind to run your business smoothly, you need a system to handle customer dues and recoveries. But for that, you need a reliable service provider in Sri Lanka to save you money and time.
The very reason why business process outsourcing (BPO) is in the market is that they take the non-value-added services to their shoulders and let the businesses manage the top-priority services.
At Techgates, our skilled team is excellently trained to handle debt collection for our clients. We take pride in being trusted to handle vulnerable services as such. Also, we ensure to collect debts promptly. Plus, we have a reminder system in place to nudge clients' customers about their dues.
Different factors such as natural disasters, economic downfalls, etc., affect debts and dues and increase customers' financial pressure. This further delays repayment whether customers like it or not. This is why a third party needs to handle debt and recoveries. They have the expertise to retrieve dues, and they send reminders beforehand.
If not for third-party involvement, the business has to shoulder the responsibility of handling debt and recoveries. This means more work and responsibility for your in-house team. Thus, businesses get in touch with debt recovery companies like Techgates.
Our service here is simple, we take the burden off your shoulder and deal it through our efficient debt collection system. So your bad debts reduce, and cash flow increases.
If strangers are interested in your service or products, it means you can turn them into prospective customers. Lead generation is basically about attracting and turning strangers into prospective customers for your business.
But this is where we come in; as outsourcing service providers, we find those who have shown interest in your service or products to narrow them down to prospective customers. Our expert team knows to use this popular marketing tactic in the right manner to explore different kinds of markets. They use various channels, including campaigns, trade shows, and many more to attract prospects.
Once we turn strangers into prospective customers, we follow up to ensure they have purchased by reminding and sending messages to increase brand awareness.
Real-Time Reports
Well experienced Agents
Maintaining High Standard KPIS & SLA
Real-Time Training
Competitive Price
Language Fluency
Periodic quality evaluation
State of Art Software