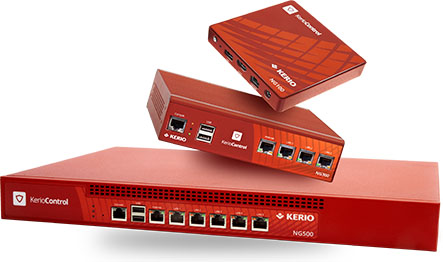 Kerio control is the leading Next Generation UTM firewall brand across in North America and Europe Region. Only the most affordable and reputed firewall brand available in Sri Lanka.!!
Network Security for Your Business
TechGates offering a enterprise level firewall UTM firewall designed to protect businesses from a comprehensive range of invasive and crippling corporate network threats. Firewall's auto-updating security layer detects and prevents emerging threats automatically while providing network administrators with flexible user policy tools, complete bandwidth management and QoS control, detailed network monitoring, and IPsec VPN connectivity for desktops, mobile devices and multiple sites. TechGates firewall provides superior network protection and intelligence that is stable, secure, and above all, simple to manage.
User-Based Access Control
Protecting your corporate network from crippling network threats is vital, but it doesn't guarantee employee productivity. Distractions lurk behind every YouTube link and banner ad. You need a simple and effective tool for minimizing those distractions. Kerio Control gives you precise power to allow, deny, and report usage statistics on specific traffic types for each user and user group.
What is QoS (Quality of Service) and Traffic Shaping?
It's all about priority. firewall's QoS tools allow you to easily prioritize and monitor network traffic to guarantee high speed for the most important traffic types. With easy-to-use traffic shaping tools, DSCP rules, and load balancing flexibility, Kerio Control provides you with the ability to throttle up speeds for essential communications like VoIP or video conferencing while limiting the bandwidth consumed by your company's YouTube addicts. But it's more than a bandwidth manager. With built-in failover redundancy, it's a full service Internet connection management system with true Quality of Service.
Deploy as software or hardware.
This UTM firewall puts the choice in your hands. Install it on any box as a bare-metal install using the ISO software appliance on your existing, or drop it into a virtualized environment one of the ready-to-run virtual appliances. Or skip the software/virtual installation all together and go with either of TechGates Control's fully loaded solid state hardware appliances.
Web-based firewall administration
Firewall's fully functional web-based administration interface helps you easily configure your UTM firewall settings no matter which deployment option you choose. IP tools enable admins to easily check status of their network. With a fully customizable dashboard GUI, you can monitor system health, traffic charts and more, all from one screen. Quickly and securely access security settings, user management, traffic policies, bandwidth management rules and more, from virtually any desktop web browser – even from your iPad. Automatic backup configuration to cloud storage ensures valuable configuration does not get lost.
Simultaneous IPv4 and IPv6 support
802.1Q VLAN support
Connection tracking (SPI)
Connection Limit
Anti-Spoofing
Protocol Inspection
Traffic Rules Configuration Wizard
DHCP server
DNS forwarder
IDS/IPS (Snort based)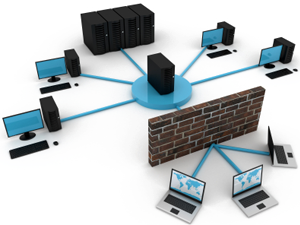 Historical analysis
Individual, Group, Entire Network Internet usage reports
User based reports
Bandwidth utilization
Security
SNMP monitoring
External Logging to Syslog
Email Alerts
Web site usage
Protocol usage
Browser based activity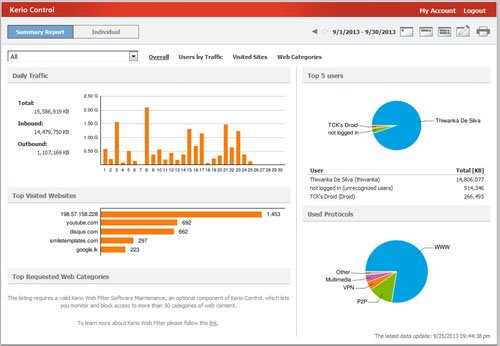 Kerberos/Active Directory/Open Directory
NT Domains
Web login
NTLM authentication
Virtual Private Networking
Split tunnel support
Windows / Mac OS / Linux clients /Android /IOS
VPN Client can run as service
User based authentication
IPsec support for VPN clients & tunnels
Multiple tunnels (site to site)
Pre-configured services
User based traffic rules
Time based rules
NAT Mapping
Group Based rules
Dynamic DNS
MAC filtering
Blacklist in IDS/IPS
Rule Exemption Capability
Time interval restriction
P2P Eliminator
URL Categories
Custom denial page
Administrative alerts
Custom URLs
Forbidden Words
FTP Policy
Proxy server
URL White-listing
Supports multiple Internet links
Policy based routing
Implicit fail over
Bandwidth Management and QoS Configuration
Web-based administration
Administration Dashboard
Multiple IP addresses on a single network interface
Customizable routing table
Variable Level Administrative Rights
Configuration Export/Import
Active Directory Integration
Open Directory Integration
Local User Database
Domain Template for default user configuration
Auto Logout after Timeout
Configurable Time Ranges for groups
All Key benefits of Firewall :
Keep Torrent, Facebook and Youtube away from your network
Reduce the extra bandwidth Cost
Monitor every single internet activity of network
Restrict unwanted traffic
View real-time charts of employee activity by traffic type
Connect multiple sites over the internet
Easy Deployment and Administration
Affordable Pricing