Work from home, work from anywhere, take your business phone on the go.
Techgates Manage Cloud-Hosted Virtual PBX platform bringing you the Virtual office concept that can take out burden of having expensive on premises PABX system. Business can avoid upfront investments and huge maintenance costs. We provide fully fledged hosted IP-PBX platform with rich enterprise grade features.
One of the most advantage of our cloud PBX system is you can access your office extension from anywhere with it's cross platform supported devices like IP Phone, Windows, MAC, Android and IOS without using any complicated VPN.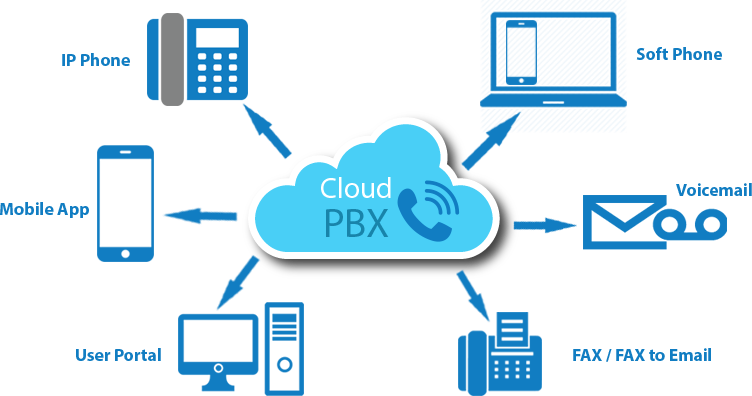 Reducing cost is one of the key factor in Cloud Hosted Virtual PBX. Companies does not have to invest in complicated expensive hardware, hire expert people to maintain it or signed up for expensive maintenance contract with vendors. Low monthly rental packages with extremely low local and international call rates. Ideal solution for startups, small and medium size business.
Nowadays most talk about technological topic is the remote accessibility. People often require to work from remotely under unavoidable circumstances. Engineers are come up with different type of solutions to keep you connected with your office, but when it comes to access your office extension remotely? Well it's little complicated if you are having an on premises hardware PABX. Complex configurations are involved, lack of support of cross platform devices. Well you can't bring your office Desk phone to home, but your Smart phone or lap top? Sure does. Your office extension on our cloud PBX can be access from anywhere with any type of devices. It doesn't has to be a hard desk phone always, you can use your Android/IOS Smart phone, Windows/MAC PC or Laptop as your extension with a Soft phone app installed.
Enterprise Grade Rich features
Cloud Hosted Virtual PBX provides you with modern day rich features typically available in IP-PBX systems like IVR,Call queues, Call Conferencing, Call recording, Call reporting, Voice mail and many more. Uncomplicated Webgui to manage your essential settings, view or generate call reports. Individual user portal for each extension to manage their extensions settings: such as voice mail, Call forwarding and Follow me, also view, listen and download voice mails, view their own call history, listen and download call recordings.
Scalability is something unique in Cloud PABX systems which doesn't available in on premises hardware PBX systems. Adding more extensions, numbers, channels are easy because it's all virtual and can be done instantly. You pay only for what you use, if you require 10 extensions for today but you require additional 2 more tomorrow? You pay extra for the additional 2 extensions only, there is no such a thing you need to upgrade to the next plan. Adding more channels are pretty much easy and instant with cloud PBX, unlike adding more lines to your Hardware PBX which require more hardware, technicians and more provisioning time.
Reliability and uptime is the utmost priority in a business. And that is why exactly you must move with a Cloud PBX instead of Hardware PBX. Cloud PBX are stored in a High Tech Data center with redundancy backup power with redundancy hardware and redundancy fiber internet. Disaster recovery procedures are in place and tested. Your PBX uptime and data protection is guaranteed.
Packages Starting from 5 to unlimited extensions
Local or International Numbers
Voice mail and Call Recording Space
All the packages are inclusive with following features
Automated Voice Menus(IVR)
Call queues
Ring Groups
Call Forwarding
Call Recording
Call Reporting
Visual Voice-mail
Voice-mail to E-mail
Fax to E-mail
Customizable Music on Hold
Time based Call routing
Audio / Video Conferencing
Web based Administration portal
Web based Individual user portal
Why you should move to a cloud Virtual PBX
No upfront investments
No maintenance costs
Anywhere Accessible
Enterprise Grade Features
Scalability
Reliability